Antalya City
Antalya, city on the Mediterranean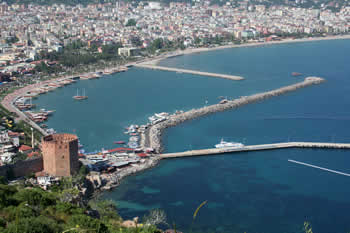 coast of south-western Turkey, is the Turkish capital of international tourism.
Situated by the Gulf of Antalya, the city of Antalya can be traced back in history as early as the 1st century BC when, as the legend has it, upon discovering this land, king Attalos II told his men that "this must be Heaven". Today, tourists who come here from all the corners of the world say that only after seeing a sunset at Antalya can one say they have seen everything a man is allowed to see in a lifetime.
Antalya is a tourism destination characterized by a Mediterranean climate with hot, dry summers and fairly warm and rainy winters, one of the reasons why increasing numbers of tourists are turning to Antalya not only as a summer destination but also as a winter vacation resort.
Time Zone
• All of Turkey is on Eastern European time, UTC/GMT +2 hours.
• Daylight saving time is 1 hour, and begins on the last Sunday in March, and ends the last Sunday in October.
Telephones
Pay phones are available at the conference center as well as in the city. Phone cards are widely available in shops.
The international dialing code for Turkey is 90, and the code for Antalya is 242
National calls: 0 + city code + telephone number
International calls: 00 + country code + city code + telephone number
Emergency Telephone Numbers
Ambulance 112
Fire Dept 110
Police 155
Mobile Phone 
There are 3 GSM operators in Turkey being as Turkcell, Türk Telekom and Vodafone. All of them are daughters or partners of international companies and have roaming agreements with network operators of all participating countries. There are two wave bands for mobile phones in Turkey: 900 and 1800 MHz. Please check with your provider regarding roaming costs and wave bands. Local GSM operators have prepaid lines, which can be provided at newspaper booths and groceries. Please check that the prepaid cards are in accordance with your line. Additionally, there will be renting possibilities of mobile phones with lines.
First Aid and Hospital Services
A doctor and a nurse will be available in the first-aid room of the Hotel during the Congress. In the event of an emergency, transfer to the nearest hospital will be provided by ambulance.
Security
Based on data provided by well known statistical institutes worldwide, Antalya, among other metropolises, is regarded as one of the few cities with a low rate of crime.
Tipping
• In restaurants, tip 10% to 15%. In hotels, tip €1 – €2 per bag for porters. You do not need to give tip for the taxis.
• You may tip in any currency so long as you give notes/bills (paper money). Do not give non-Turkish coins, as these cannot be exchanged for Turkish liras.
Banking
Bank services are available at the Airport, throughout the city and there are several close to the Hotel. Banks are open from 08:30 to 17:00 from Monday to Friday, with a break between 12:00 to 13:30. They are closed at weekends and on public holidays.
Credit Cards
International credit cards are accepted in cash dispensers, hotels, restaurants and most shops, as well as car rental agencies. The most common credit cards are VISA, Euro Card, and MasterCard.
First Aid and Hospital Services
A doctor and a nurse will be available in the first-aid room of the Hotel during the Congress. In the event of an emergency, transfer to the nearest hospital will be provided by ambulance.
Driving License
International Driving Licenses are recognized throughout Turkey. Car rental companies ask for a valid driving license.
Insurance
Registration fees do not include insurance of any kind. At the time you register for the Congress and book your travel you may wish to take an insurance policy of your choice. This insurance is to be purchased in your country of origin.
Post Office
Post offices are indicated PTT (Post, Telegraph, and Telephone) throughout the city. The central Post office is open Monday through Saturday from 08:00 to 21:00, Sunday from 09:00 to 19:00. Smaller ones are open Monday through Friday between 08:30 and 17:00. Hotel concierges also take the mail.
Shopping
Most shops in Antalya are generally open from 09:00 to 19:00, Monday to Saturday. Big shopping centers are open every day of the week, usually from 10:00 to 22:00. In all shopping centers major credit cards are accepted and tax-free shopping is possible.
Taxis
Available at taxi stands or hailed on the street. All are yellow and have meters.
Currency
The Turkish Lira (TL) is available in notes and coins. The exchange rate is determined daily; several banks and exchange offices are available. Traveler's checks can be cashed in most banks. Hotels and many shops and restaurants accept foreign currency. There is no limit to the amount of foreign currency that travelers can bring cash. Hotels, most restaurants and shops accept all major credit cards (American Express, VISA, MasterCard, Diners Club)
Tax: The current VAT rate in Turkey is 18% except for accommodation which is currently %8. Please note that these rates are subject to change.
Climate
Due to the variety of its physical features, Turkey possesses a mixed range of different climate types. The Mediterranean and Aegean coasts have mild winters and hot summers whereas the Black Sea coats have a wetter climate with rain all year round. The region of Marmara where Istanbul is located, climate is a combination of both with pleasantly warm spring and fall, with hot dry summer and relatively cold winter.
Travel Information
How to go to Antalya?
Every foreign visitor entering Turkey must possess a valid passport. Participants from countries requiring a visa for entry to Turkey are strongly advised to make their applications in their home countries at least one month before the intended date of travel.
To obtain further visa information for foreigners, please click here
Obtain information about visa fees at border gates, please click here
By Air:
Antalya International Airport is an important destination and transfer point for many international flights from all over the world.
Numerous international airways organize timetable and charter flights from various airports in Europe and Middle East to Antalya airport, and also Turkish airlines have direct domestic flights or connected flights via Izmir, Ankara and Istanbul. Antalya airport is the most suitable airport to arrive in the region for those preferring to use airplane.